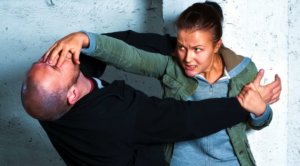 Nowadays nobody is safe with crime rates increasing and population boom has made living with insecurity an ordinary thing. You can never know who is going to bash you so you'll have to be prepared for these kinds of situations because these can make a difference of life and death. So here are our picks for top 5 apps to learn self-defense.
Live to Tell About It
This is one of the best self defense app available for IOS user, it teaches self defense techniques taught by 5th Degree Black Belt Noel Gyro and 7 Time World Karate Champion Johnny Gyro. This app is designed to teach you moves to successfully escape an attack on you.
Marine Martial Arts
This app was developed to help practice their close combat skills but anyone can use this app to learn skills to successfully defend themselves from an attack. It also gives users 15 fitness benchmarks to know at what level of fitness they stand on.
Self Defence For Women
This application is specially designed for women to help them learn self defense techniques so that they can feel safe when they are alone. It teaches basic martial arts moves, ideal weapons to choose when in a fight, and being alert in venerable places.
Bully Buster
This app is not necessary a self defense techniques app for everyone but for kids to learn how to manage bullies and if cornered how to defend themselves. It is a great app and a must-have for kids to learn how to talk to adults and defend themselves from bullies.
Self Defence
This is a great app to learn to be safe in familiar situations like home or nearby streets. It gives you instructions to make your home environment safe in text format.