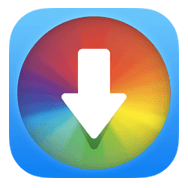 You don't have to pay for apps anymore for your iOS device, download all the apps you want from the Appvn app store! Appvn provides free apps for all iOS devices, the app store is free for all apple users. You can use it on your iPhone, iPad, iPod etc to download apps. You can download the most popular apps, even the paid ones. There is no hidden costs to this app store.
Best part about using Appvn to download apps is that you do not need a jailbroken iOS device to run this third party app store. You can download the Appvn app for both jailbroken and non jailbroken apple devices. The app is in Chinese but you can set the default language to English and can nevigate in the app better. Appvn has a great collection of coolest and most popular apps. Appvn is fast with updates so your app which is downloaded with this app store will receive updates much faster.
Download Appvn iOS 9
You can see the download options written in Chinese language, you just have to tap on the blue button to initiate download.
You will then see the two download options, one for jailbroken iOS device and another one for non jailbroken iOS device. Chose your respective version.
An installation dialogue box will pop up reading "nonjb.com would like to install Appvn", tap on "Install".
Open your home screen and open the Appvn third party app store. You will see all the text is in Chinese but you can change that in settings.
Open the gear icon which is the app settings and you will be able to choose from Vietnamese and English language, chose English.
Now you can use this third party app store to download any premium paid app you want for free!